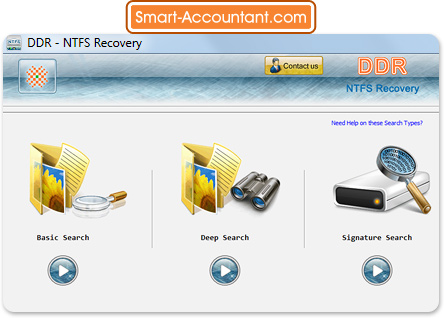 Data restoration tool shows recovered files in tree structure format by scanning the entire hard disk drive with standard or advanced search and allows you to restore entire or selected recovered data in its original form. Disk partition recovery tool gets back your lost data from all type of disk drives such as ATA, SATA, IDE, EIDE and SCSI devices in all major data storage capacities. Recovery software utility provides user friendly interface and does not require any special skill to operate.
Where Does NTFS Data Recovery Software Work?
NTFS Data Recovery Software works when data lost due to the following reasons:
√ Accidental deletion
√ Disk drive failure
√ Improper usage
√ System malfunctioning
√ Computer virus
√ Corrupted boot directory entries
√ Formatted or corrupted disk
√ Power failure and so on
Software Characteristics:-
Restore lost data after the hard disk failure.
Rescue missing files due to virus attack, corrupt MBR, formatted disk, malicious software and other data loss reasons.
Quickly recover previously existing data after reformatted disk.
Full support for localized and long file names.
Support NTFS and NTFS5 file system.
Optimize disk scanning performance by Standard Search or Advance Search.
Support all type of hard disk drives such as ATA, SATA, IDE and SCSI etc.
Facilitate with systematic user guide.
Cost effective and user friendly interface.