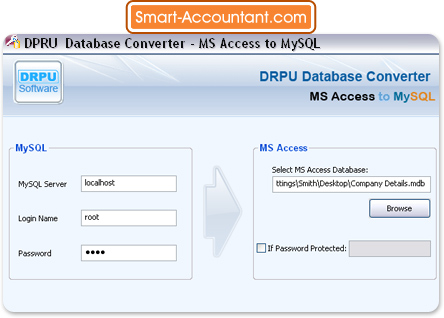 Database Converter solution that precisely converts database file in exact way in which you want it. Database File conversion solution supports Unicode architecture and maintains database integrity.
Data base conversion solution is fully capable to overwrite converted database or provides save option for saving converted records as per your choice. Simple and reliable conversion utility converts password protected files and supports necessary datatype attributes. Simple to access database conversion software supports all major versions of MS Access and provides inbuilt help menu for user's assist.
Software Characteristics:-
√ Convert entire or selected MS Access database records into MySQL database server accurately.
√ Overwrite converted database into existing database records or facilitate to save at new location.
√ Support Unicode architecture and maintain database integration.
√ Convert all password protected MS Access files into MySQL database server.
√ Support indexes, primary keys, null values, default vales and all necessary data type attributes.
√ Support all major versions of MS Access and MySQL database server.
√ Requires authentication before database converter.
√ Password protected software prevents from unauthorized users to change configuration settings.
√ Demo will show first few records of converted database.
√ Facilitate with inbuilt user guide.
√ Compatible with all Microsoft windows operating system.