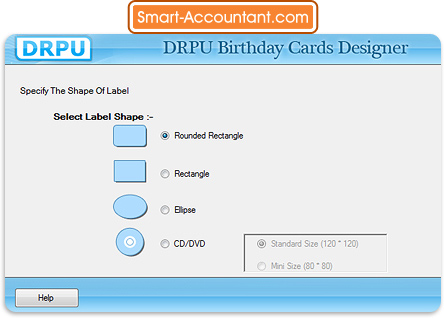 Birthday Card designing tool is useful for Business and Home users to design and generate variety of great looking homemade Birthday cards with advance photo addition facility. Happy birthday card maker program saves your valuable time and money wasted while purchasing costly birthday cards from store. Now you have best chance to design and generate your own hand made Happy birthday cards in less time and efforts.
Software Characteristics-
√ Design and create birthday card using image designing tools including Line, Ellipse, Pencil, Rectangle, Text, Picture, Arc, Triangle and Star objects.
√ Design and create birthday cards in Rectangle, Rounded Rectangle, Ellipse, CD and DVD shape.
√ Provide option to design folded Birthday cards.
√ Add Custom message or use message template during Birthday card creation process.
√ Provide option to create colorful Happy birthday cards.
√ Give your written text different look using WordArt text styling feature.
√ Option to generate multiple copies of designed birthday cards.
√ Save designed birthday card on your PC for future reference.