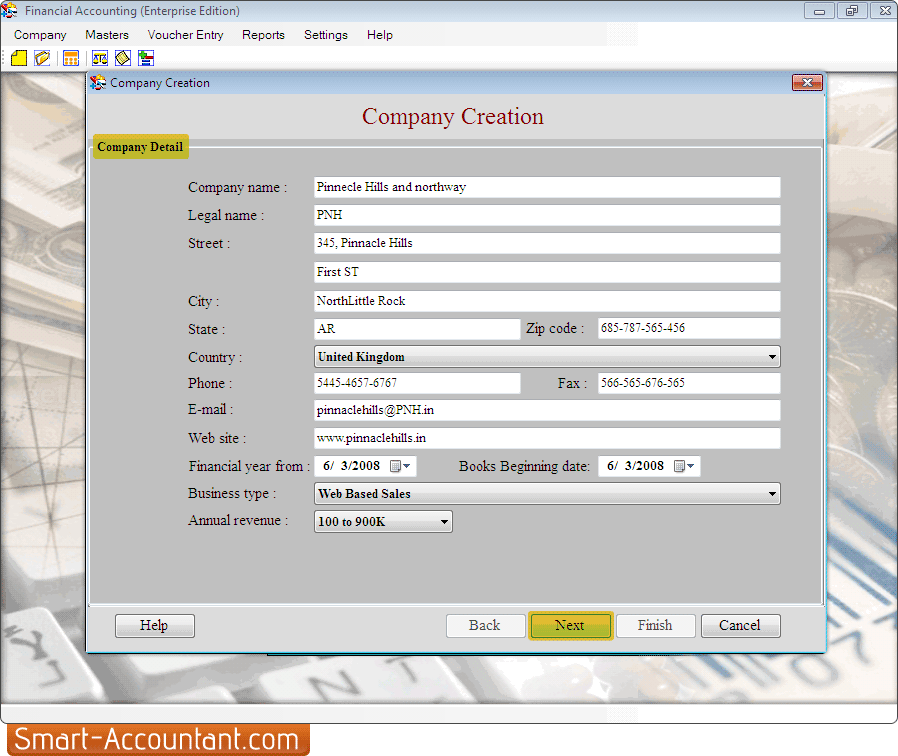 Easy to use computerized solution helps your organization to manage Billing records, Stock/Inventory details, Tax records, Voucher entries, Sales/Purchase order records, income, expenses, customer-vendor records and similar financial tasks all at one place. Advanced bookkeeping software accurately calculates the general ledgers including Balance sheets, Trial balance, Financial Bills and Profit/Loss details of your company.
With exclusive barcode technology, easy to use financial accounting utility facilitates to access accounting details in the easiest way (in case of preparing sales and purchase orders) and thus enhance your business productivity. The inventory and invoice managing wizard provides clear and precise accounting reports helpful to review the annual financial transactions of your business enterprises. The end to end business management application is a reliable and professional accounting program and ultimate solution from tedious and time consuming paper-pen financial tasks. The easy to use accounting software has an intuitive graphical interface with exclusive do-it-yourself feature.
Software Characteristics:-
• Economical, scalable and robust financial accounting software:-We provide economical, scalable and robust financial accounting program suitable for your daily business needs.
• Advance Barcode support:-Has an exclusive barcode generating feature for quick and accurate accounting calculations.
• Manage entire company financial details:- Efficient management of company financial and accounting details including, stock, inventory, invoice, ledgers, taxations, company-customer records etc.
• Generate Ledger report, Sales/purchase order report, Company expenses report and other similar business reports.
• Safe and secure:- Enhance security features like User Login and Freeze date to secure your secret financial data.
• Records daily business transactions:- Professional and smart working and keep on updating your financial data as per daily transactions.
• Easy to use:-Impressive graphical interface and no technical skills or prior training is required to operate on accounting software.
• Improves business performance:- Helps in automating and improving financial performance of your enterprise.
• Fit for all your business accounting needs:- Profitable tool for all large, medium and small financial and accounting sectors.
• Easy and cost effective utility:- Cost-effective and easily affordable as compare to other complex bookkeeping accounting programs.