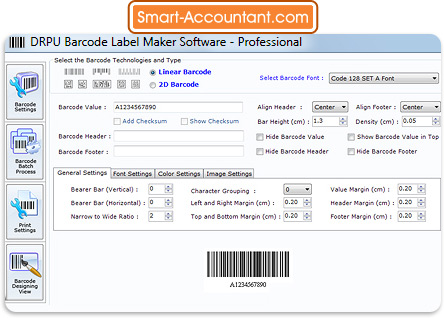 Barcode Maker Software supports to create attractive and colorful images useful for major business usage. Barcode designing view is proficient to create various shapes of colorful barcode images with use of image design tools including ellipse, images, arc, text, line and other similar objects.
Advance Features:-
√ Fonts Support – Barcode label creator program supports all major Linear and 2d barcode fonts to create bar code images.
√ Generate Barcode Images – Provide option to create and print colored Barcode Labels with advanced color settings.
√ Barcode Designing View – Design label with Line, Ellipse, Pencil, Rectangle, Text, Barcode, Picture and Arc objects.
√ Advance Data Set Series – Generate the multiple copies of labels with different barcode and text value for bulk usage specially in ticketing process.
√ Generate Barcode Series – Generate Barcode List using Sequential Series, Constant Value Series and Random Series list creation options.
√ Print Images – Advance option to print barcode images as per flexible printing facility.
√ Save Images – Save generated bar code images in variety of graphic format including JPEG, TIFF, PNG, EXIF, GIF and BMP for further use.