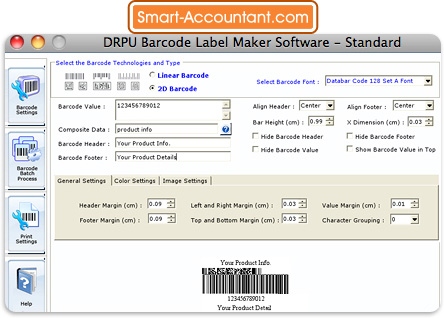 Mac Barcode Maker Software easily saves generated barcode images in various file formats including JPEG, TIFF, PNG, EXIF, GIF and BMP etc on pc for future uses. Generated barcode images can be easily copied and pasted at various Windows applications such as MS-Word, MS-Paint, MS-Excel etc.
Generated barcode labels can be easily scanned by any major barcode scanners. Affordable barcode label creating tool is useful for all small and large business organizations including shipping, transportation, retail sectors, libraries, healthcare, pharmaceuticals and inventory etc.
Software characteristics:-
√ Barcode designing software allows user to design and print premium quality colorful barcode labels.
√ Barcode label generating software support all commonly used linear and 2d barcode fonts.
√ Generated Mac barcode images can be easily saved in JPEG, TIFF, PNG, EXIF, GIF and BMP file formats on pc for future use.
√ Easily print multiple copies of same barcode on single paper.
√ Inventory Mac barcode maker tool creates different series barcode lists including Sequential series, Random series and Constant value series.
√ No need of any additional technical skills required to operate the software.
√ Barcode label generator software supports all latest versions of Apple Macintosh operating system.